While cleaning out his chimney, a British man discovered the remains of a WWII carrier pigeon, and with it, an encrypted message for British intelligence which may never be unscrambled.
When retired probation officer David Martin cleaned out his chimney, the last thing he probably expected to find was the remains of a 70 year old WWII carrier pigeon, with message intact. The message was composed of 27 five-letter blocks, obviously encrypted to prevent it from being intercepted by Axis forces. When the message was later delivered to the Government Communications Headquarters (GCHQ) in Britain, who are in charge of signals intelligence, they found it was not possible to decipher the message.
The message was coded using an OTP (one time pad), a virtually unbreakable coding system. The sender and recipient both have a one-time-use sheet with a cipher key. The specific key is necessary for decoding the text, and is only used for a single message. This means that if further messages are intercepted, they will all be coded differently and there are no copies of the key lying around either, making deciphering impossible.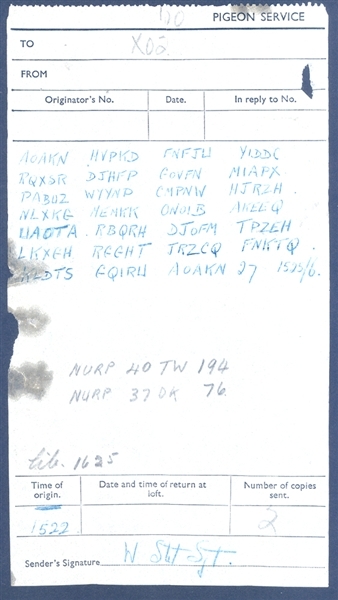 The message in all it's cryptic glory
It is believed that the message was sent during the D-Day invasion of France, sent across the channel to relay messages to the British command, since radio silence was in effect. Chances are the pigeon became disoriented or tired from it's flight, and ended up in the chimney. The message was most likely due to Bletchley Park, a secret military facility 80 miles from where the pigeon was found. The message was also to be delivered to X02, which was the designation for Bomber Command.
The only way to ever find out what the message read is by finding the OTP designated AOAKN, which may be somewhere in an archive, or by finding the writer of the message, one Sergeant W. Stot.
In case you're curious, here's what the message looks like:
AOAKN HVPKD FNFJW YIDDC
RQXSR DJHFP GOVFN MIAPX
PABUZ WYYNP CMPNW HJRZH
NLXKG MEMKK ONOIB AKEEQ
WAOTA RBQRH DJOFM TPZEH
LKXGH RGGHT JRZCQ FNKTQ
KLDTS FQIRW AOAKN 27 1525/6