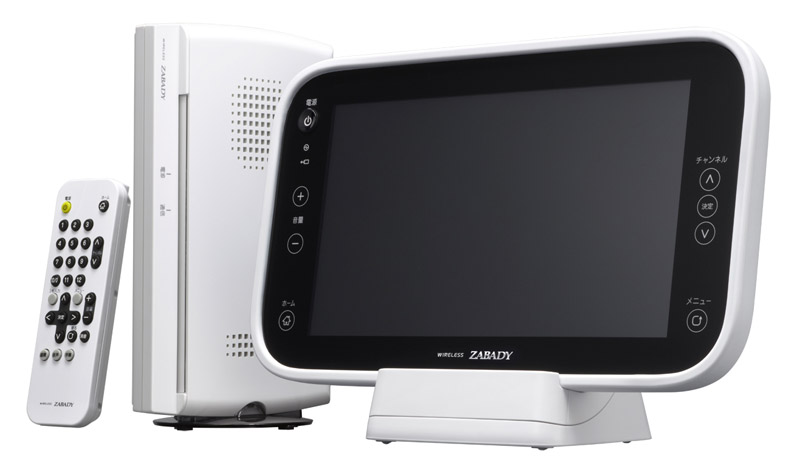 Ever wanted to watch your favorite show in the bathtub but were too afraid of frying your TV's circuits? Twin Bird might have just the product for you!
Due for release in late November at a price of 50,000 Yen, the Wireless Zabady (VW-J108W) is a waterproof and wireless TV from the clever folks at Twin Bird Inc.
The device has a 10.1-inch waterproof LED monitor, and comes with a separate digital terrestrial TV tuner/transmitter which sends image and sound data wirelessly to the monitor. Television signals are first picked up with the tuner before being sent through the air to the waterproof monitor, allowing you to enjoy TV without being tied down to cables and weighty TV sets.
Now for the cool part. When they say waterproof, they mean it. This doesn't just mean it prevents against water droplets that happen to splash on it, oh no. You could literally take this sucker into the shower with you and nothing would happen. How is that possible? Well, the monitor adopts a fully waterproof structure which conforms to IPX7 standards (water won't enter the device after 30 minutes of submersion in 1m deep water). So if you drop it in your bathtub no need to worry, just fish it back out again. This puppy was made for the bathroom and kitchen, where water is an ever-present factor.
Of course, what good would TV be without sound? The Zabady comes complete with a built-in speaker, and the battery lasts for up to 5 hours of continuous use. Should be long enough for any bath-lover. Unfortunately, the device takes 6 hours to charge up, but you can always leave it on to charge at night. The unit has a power consumption of 5.5W.
Dimensions of the monitor unit are 305x36x180mm, and it has a weight of 1.2kg. A charger station is included, which can also be used as a television stand.
The tuner unit supports terrestrial digital broadcast, and comes equipped with a miniB-CAS slot. It has dimensions of 225x160x35mm, and a weight of 420g.
And if that's not enough, the device even comes complete with a waterproof remote control!
Source: AV Watch