---
Your smartphone could be your ultimate source of distraction, or your best friend to supercharge your productivity at work. So here at VR-Zone, we seek to bring you the top 5 productivity apps for Android to make your day awesome.
1. Swiftkey
The best way to increase your productivity is to type more accurately at a faster speed. Swiftkey, is designed to do just that. The autocorrect features on Swiftkey is uniquely designed and tailored to you. It uses information from your emails and social media platforms to predict words you use often. So if you like to use singlish terms like "leh", Swiftkey will leave "leh" as "leh", instead of trying to correct it to something like "lie". In fact, use it enough and it might even suggest it to you. A keyboard that saves your brb-s. lol-s, and wth-s. What more can you ask for?
The aesthetics of the Swiftkey keyboard only adds to its case. Not only is it gorgeous, it also offers swipe-typing, where you can type words just by dragging your fingers over the alphabets on the keyboard.
Download it here.
2. AirDroid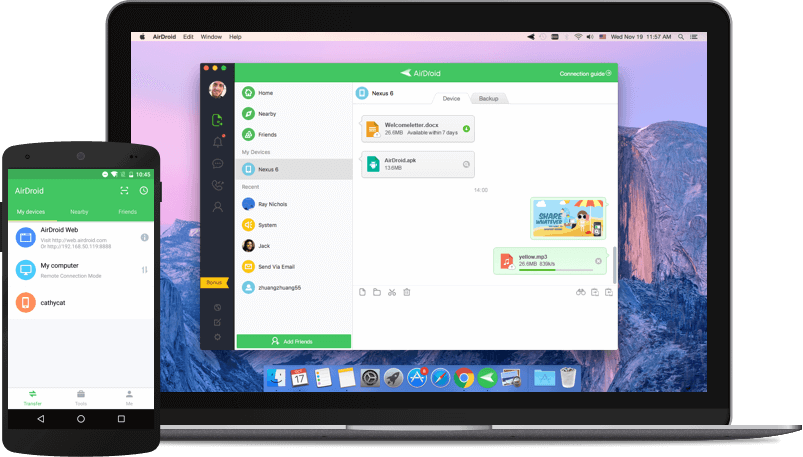 Texting on your smartphone can be a chore. That's kind of why we use WhatsApp Web and Telegram Web. Typing on a physical keyboard always seems much more efficient and well, satisfying. Did you know that you can now control your smartphone from your laptop using AirDroid?
AirDroid doesn't only work with Windows, but Mac as well. Focusing on your work on just one screen, might just be all you need to supercharge your day.
Download it here.
3. Google Keep
It's not the most feature-packed note-taking app out there, but it is the simplest to use. What's more, everything is integrated into the Google system, so if you are an Android user that's also on Gmail, tapping onto Keep is a no-brainer.
This classic app has a pretty sticky notes design and you can quite easily tap and create, as well as categorise your notes into different tags and colours. It lets you create checkboxes, record audio, reminders, drawings and pictures in addition to your usual typing.
The best part of it, is that it's available not only on Android, but on your PC's web browser, and even an Apple device if you own one,
Try it here.
4. Trello
Trello pretty much keeps track of everything. It's great as a to-do list, or just a team collaboration platform. It is not only visually appealing, but easy to use as well. You can easily change the interface according to your preference and the drag-and-drop interface simply makes it a delight to use.
Within teams, you can even sub-divide yourselves into smaller teams to that your conversations and tasks do not get jumbled up with the other team members!
The features are light and easy for a small student team to use, but for large engineering teams that require a lot of feature and technical things, Trello might not be for you.
Nevertheless, this app that allows you to keep track of things under separate categories serves as a great personal management tool.
Use it here.
5. Slack
If email and WhatsApp had a baby, Slack would be it. Slack, is a lovely way to collaborate with people and work in teams. You can set up different broadcast channels to talk to your team about different topics. If you hate how your WhatsApp convos are always about 2 different topics and yet simultaneously going on, you need Slack.
You could categorise your conversations into #marketing, #sales, #admin and invite different people to each channel even within your team.
What's more, you can upload pictures, videos, documents and what not into slack, which makes it incredibly easy to use. It probably is the best messaging and back-channel chat option for teams out there. If it had task management functions like Trello, Slack would be perfect.
Grab it here.
---
About the Author
A Dentist-To-Be Dabbling in Tech Journalism:
Zayne is a writer who reports for VR-Zone, Stuff Singapore and The New Paper on all things tech-related. Follow this geek on Twitter, Facebook or Instagram!