Full-frame DSLRs. If you are a pro-photographer, chances are, you are going to own one. These cameras are the heaviest, bulkiest and most expensive of them all. Nevertheless, if you are a true sharpshooter, especially one that takes photographs for a living, they are absolutely worth their weight, and price.
Sensor: Full-frame CMOS
Megapixels: 20.2MP
Screen: 3-inch
Maximum Continuous FPS: 4.5fps
Movies: 1080p
The Canon EOS 6D is one of the more affordable full-frame DSLRs in the market. This remarkable device is built to tempt current DSLR shooters who hope to be able to tap on some of the benefits of full-frame shooting, which includes shallower depth of field as well as wider-angle lens shooting, but at the same time, are not able to fork out enough for top-tier devices like the EOS 5D Mark III. It's also one of the lighter full-frame shooters, so if you intend to shoot all day, consider the EOS 6D.
Sensor: Full-frame CMOS
Megapixels: 50.6MP
Screen: 3.2-inch
Maximum Continuous FPS: 5fps
Movies: 1080p
The best part about the 5DS R is its remarkable resolution. Although smartphones can push up the MegaPixels easily without having much benefits, when full-frame shooters do that, the increase in detail is stunning. The Canon 5DS R, is a living and breathing testament of this fact. Canon 5DS R is built to render incredible amounts of detail in the right conditions and is best suited, but not limited to studio shooting.
Sensor: Full-frame CMOS
Megapixels: 36.4MP
Screen: 3.2-inch
Maximum Continuous FPS: 4.4fps
Movies: 1080p
If we were to talk about value-for-money cameras, then the Pentax K1 would most certainly be on the top of that list. For a listing price of $1799, the Pentax K1 sports a magnesium alloy body that's extensively sealed. Ricoh's flagship full-frame DSLR is easy to shoot with thanks to the ergonomic generous grip it comes with. It has also one of the best raw dynamic range results and details in its photos for cameras at this price range.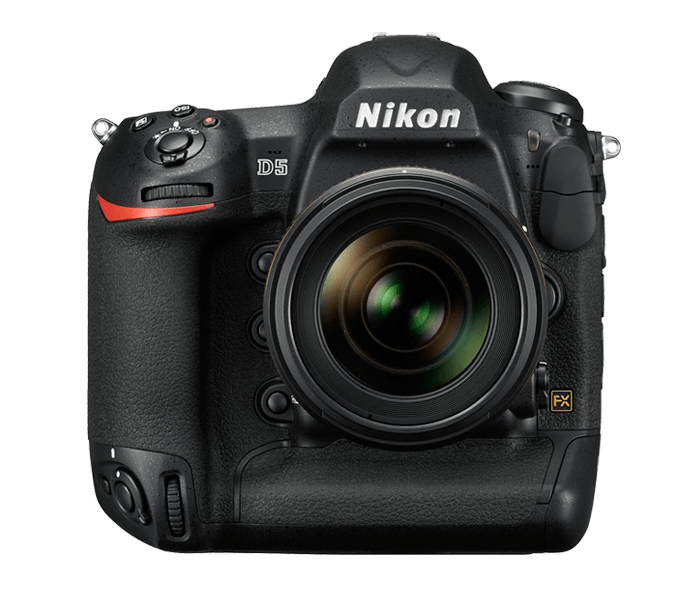 Sensor: Full-frame CMOS
Megapixels: 20.8MP
Screen: 3.2-inch
Maximum Continuous FPS: 12fps
Movies: 2160p
The Nikon D5 is the go-to camera if you are looking for a DSLR built for action. It comes built with a 20.8MP full-frame sensor and 153-point autofocus system for quick shooting as well as a large, double-grip body that's rock-solid and comfortable at the same time. The continuous shooting mode is absolutely marvellous, coming in at 12fps, making it an ideal camera for sports photographers. Although the camera might not have the crazy dynamic range you would usually expect to see in full-frame DSLRs, the sensor within makes up for it by delivering better high ISO performance alongside a faster read-out speed.
Sensor: Full-frame CMOS
Megapixels: 30MP
Screen: 3.2-inch
Maximum Continuous FPS: 12fps
Movies: 2160p
One of the best general purpose cameras, the Canon EOS 5D series is built to cater to a wide range of photographers, from amateurs, to professionals. It's high-res sensor within its body has a unique Dual Pixel autofocus, alongside a stunning 4K video capture as well as an powered-up AF system. It's sturdy body that comes with a touchscreen, is also tightly-sealed to help increase its weather-sealing properties. Alongside its in-built Wi-Fi capabilities, a GPS system and an interval timer, it's hard to say no to the EOS 5D.
---
About the Author
A Dentist-To-Be Dabbling in Tech Journalism:
Zayne is a writer who reports for VR-Zone, Stuff Singapore and The New Paper on all things tech-related. Follow this geek on Twitter, Facebook or Instagram!