The sequel to the short, but terrifying game Slender is receiving a sequel, and the creators of Marble Hornets are crafting the story for it.
The slenderman mythos originated in the Something Awful forums, and spread throughout the internet, eventually inspiring, among others, a popular free downloadable game called Slender: The Eight Pages, and a successful YouTube series called Marble Hornets. Now the creators of Marble Hornets have signed up to craft the story for Slender's sequel, "The Arrival". This will most likely mean a very good sequel. Mark Hadley, the creator of Slender, stated he's "confident that together we can produce a mind blowing horror experience in The Arrival."
An encounter with the slenderman during Slender: The Eight Pages
The slenderman was created as part of a contest in 2009 on Something Awful's forums, in which users were to doctor real images to include a supernatural entity and then spread the image on paranormal communities online. One contestant, Victor Surge, spread a series of photos from the late 19th century depicting children and a tall figure with tentacles in the background, stating that the children later vanished. Since then, the character has evolved and today, is generally defined as a tall faceless (literally) man wearing a suit and tie, often associated with trees and forests… and indeed, with the disappearance of children.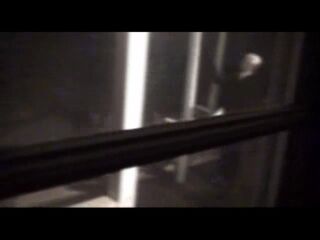 The first encounter with the slenderman in Marble Hornets
Slender popularized the Slenderman myth to a large audience, though it drew much of it's inspiration from the earlier YouTube series, Marble Hornets. Gameplay elements such as the pages which must be collected were designed after similar pages in MH, and several locations, such as a large drain pipe and abandoned house, were inspired from MH as well. Marble Hornets is an ongoing YouTube series filmed in the found-footage style, depicting interactions between the slenderman and a character named Jay who is attempting to find a missing friend. The series is presented as an alternate reality game, and allows viewers to interact with the content and tries to convince the viewer that the events in the series are unfolding in the real world.
Slender: The Arrival is due to be released in early 2013.