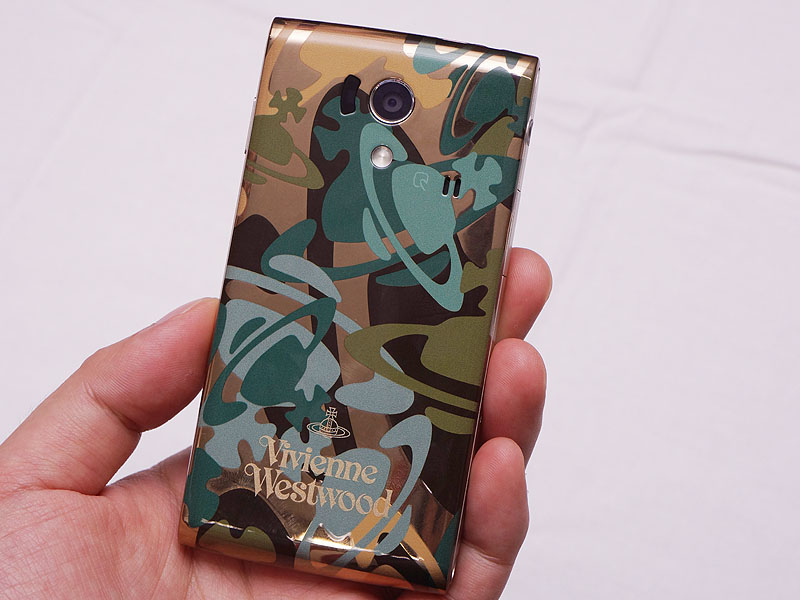 In a move that is certain to interest the orb bedecked fans of Vivienne Westwood's designs; Sharp is now selling a limited edition version of one of their popular Android smart phones, produced in collaboration with the world renowned British fashion designer.
Part of the new winter and spring lines of accessories, the body of this Sharp SH-01E is covered in a camouflage motif, and decorated with a gold Vivienne Westwood label. The user interface has also been jazzed up with 16 custom backgrounds based on iconic Westwood designs like Harris Tweed and Pagan Kiss.
From the photo you can see that the icons are also slightly dramatized versions of standard Android icons. What apparently most delighted users who tried the phone out at its premier were the mischievous satyrs who appear when you get a call or a message.
The handset itself is none too shabby either. The selling point is its 4.1 inch 540×960 QHD screen which takes up the entire front side of the phone, and it's light weight—weighing just 115 grams. DoCoMo calls this size "Just Fit" and markets it to women, because apparently Japanese women aren't offended by the implication that they are weak and their hands are small. The SH-01E's 12.1 megapixel HD camera also allows you to take full HD video.
The other features of the phone like its dual core 1.5 GHz snapdragon processor, and Android 4.0 OS are pretty standard. It owes its existence to the number of fans of the Vivienne Westwood label in Japan, which is likely second only to the UK.
At the moment this limited edition phone is only being sold in Japan but if fans in the rest of the world showed enough interest Sharp just might do something about that.