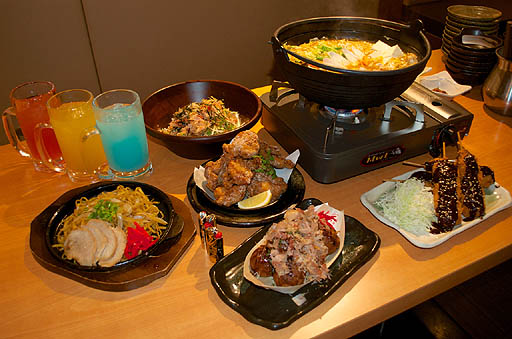 Sega hosted a press meeting / free tasting event at Izakaya Hanako's Japanese-pub in Shibuya to promote the release of Yakuza 5 in Japan (aka Ryu ga Gotoku 5: Yume, Tanaeshimono) on December 6, 2012, and to discuss their new collaboration with the pub chain. Attending the event was Japanese talent Saki Suzuki, who is recreated in the game as a bar waitress.
To celebrate the release of the latest Yakuza title, Izakaya Hanako pubs are offering a special "Yakuza 5 Banquet Course" menu from Oct 30th to Dec 13th, which consists of the following dishes based on the 5 main cities which appear in the game: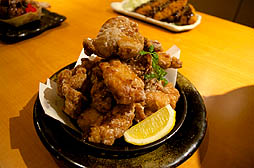 Zangi
Tsukimino, Sapporo
Spring chicken deep fried in a special sauce. Goes well with lemon juice.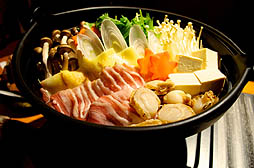 Cheese Curry Pot
Kamurocho, Tokyo
A pot of cheesy curry with pork and seafood. Good for sobering up.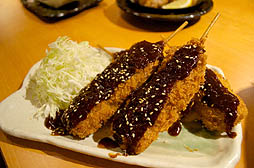 Miso Cutlets
Kineichou, Nagoya
Pork cutlet covered in red miso, lightly seasoned with sesame seeds.
Takoyaki
Aotenbori, Osaka
Large chunks of octopus deep fried for a crunchy sensation.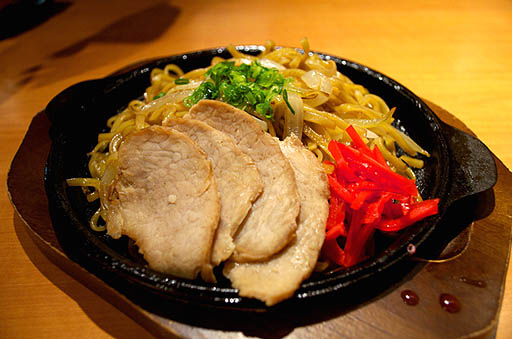 Fried Ramen
Nagasugai, Fukuoka
Fukuoka's specialty fried ramen. Rich pork-flavored ramen served on a metal griddle.
In addition to the above menu, Izakaya Hanako is also offering their mail magazine subscribers the chance to win one of 20 limited edition Hanako Original Ryu ga Gotoko T Shirts by applying through their site.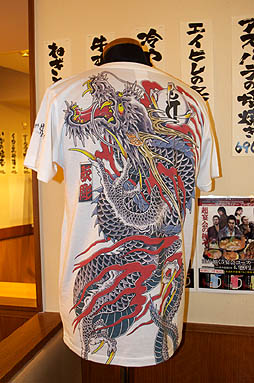 The press event was attended by Sega's producer of Ryu ga Gotoku 5 Masa Yokoyama, Izakaya Hanako's Manager and Section Eight PR Official Minako Sakaue, and the previously mentioned talent Saki Suzuki.
Saki Suzuki is well known for being a video game addict gave her thoughts about being digitally represented in Yakuza's latest installment: "I wanted to give my friends a shock by appearing in the game, and I was amazed at how lifelike my CG model was".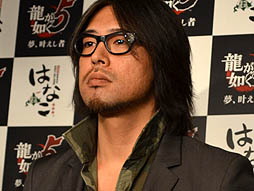 Ryu ga Gotoku 5 Producer Masa YokoYama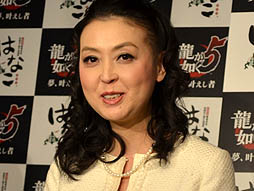 Section 8 PR Official Minako Sakaue
Also appearing at the event was the Sapporo finalist of the previously hosted "Miss Ryu ga Gotoku 5" contest, Kaori Okamoto. Miss Okamoto is actually a waitress at Izakaya Hanako in real life, and this was the reason she was chosen to be digitally represented as a bar waitress in the game.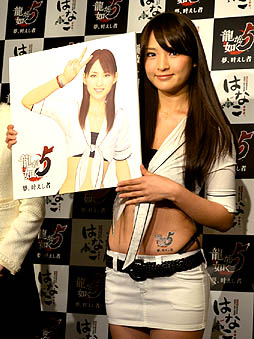 Saki Suzuki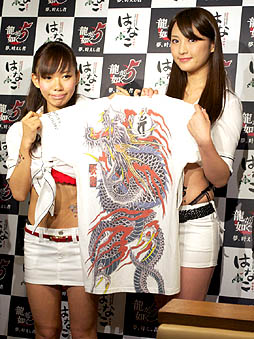 Kaori Okamoto (left) and Saki Suzuki
Finally, Mr. Yokoyama gave his thoughts on the game: "When looking for a way to accurately portray the local cultures of each of the 5 cities appearing in the game, I realized that 'food culture' was an important aspect of each region." It is possible to walk the streets of the game while eating specialties from all around Japan, but according to Mr. Yokoyama, "Izakaya Hanako gives you the chance to eat local specialties from each region all at one place, that's why I like it. I hope to merge the realms of the game world and reality through our collaboration with Izakaya Hanako."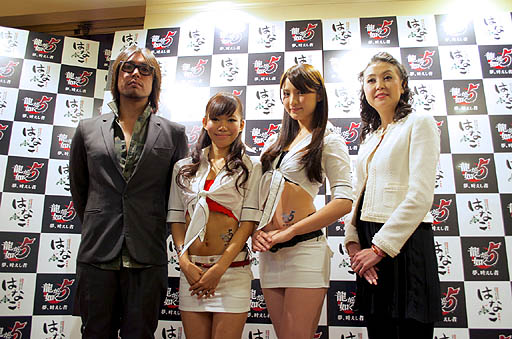 Source: 4gamer