Tall, dark and handsome, that's pretty much what the Samsung Galaxy S8+ is. However, beyond its gorgeous looks and design, the S8+ does pack a lot under its hood as well, sporting a great camera and processor that proves itself to be a powerful premium flagship worth its hefty price tag.
Design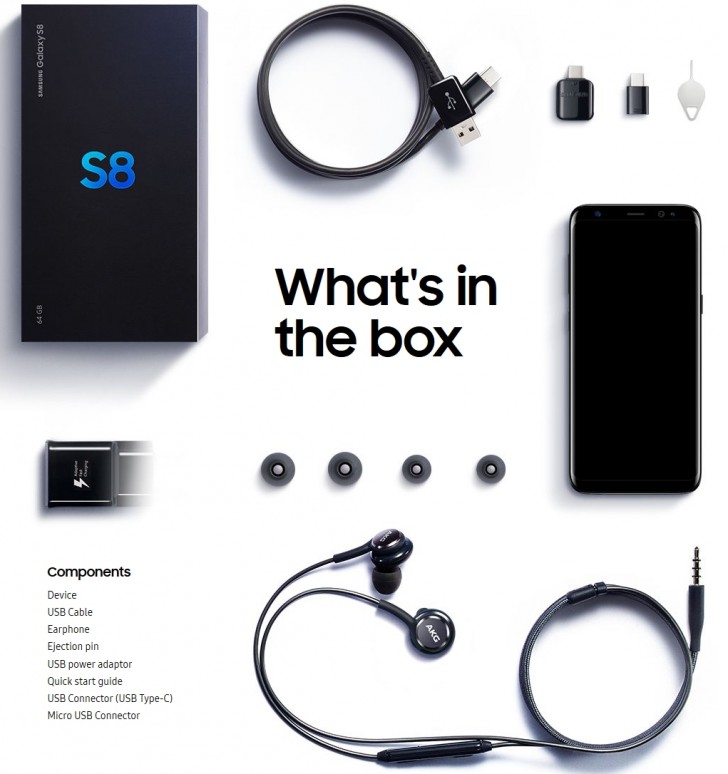 The Galaxy S8+ is a phablet for sure, it has a screen size of 6.2″ that seems almost never-ending thanks to its horizontally bezel-less frame. The bezel-less sides has a unique curvature that no other phone in the market possesses, giving it a true edge-to-edge display.
Since the Galaxy S8+ has a camera that is flat instead of one that pops out the back of the frame, the Galaxy S8+ has a completely flat back surface which adds to it sleekness.
With a dimension of 159.5 x 73.4 x 8.1mm, the phablet is pretty compact for a device packing a screen size over 6-inches. It also weighs a fairly light 173g, which I find fairly remarkable. One issue some people might find is the fact that the smartphone is really tall, which makes it difficult to reach the top and bottom of the screen with a single hand.
The fingerprint sensor is located on the rear of the smartphone beside the camera, but perhaps it is placed a little too high up the center, making it difficult to reach.
Of course, the USB-C ported smartphone is also waterproof and dustproof like the Galaxy S8.
Display
The Galaxy S8+ packs on a superb display that has an incredibly high resolution of 1440 x 2960 px and a pixel density of 529ppi. Colours produced off the Galaxy S8+'s screen appear punchy and much more realistic than other phones I've reviewed lately. This is of course aided by the Galaxy S8+'s SUPER AMOLED display which produces deep blacks that really help improve the contrast of the smartphone's display.
Performance
There is no doubt that the Galaxy S8+ is a beast under the hood. After all, the Snapdragon 835 processor it packs is the best in the market at the moment and 4GB worth of RAM is often sufficient to handle this powerful processor and everything you need to do on a smartphone. With that being said, it is not surprising that the AnTuTu benchmarks gave me a score of 172,215, which is amongst the highest in the smartphone market but actually lower than some midrangers such as the OnePlus 5.
Gaming performance is  fluid for sure. The high-resolution screen and popping details on the smartphone makes playing mobile games an absolute joy on the Galaxy S8+. The 3DMark tests gave the Galaxy S8+ a score of 2598.
Software & User Interface
Your Android 7 Nougat's software is interlaced with the Samsung UX, the Grace UX which is gorgeous and elegant.
Right from the start, you get an Always On display, which greets you and gives you a brief overview of what updates you have on your device, as well as letting you see the time and date without having to press any button.
Your lockscreen groups notifications nicely and lets you do direct replies on your messaging apps without having to unlock and open apps up.
Some other cool things you can do with the S8+ that you can't do with other phones would be unlocking your smartphone with the iris scanner, which works surprisingly well and accurately. The only time it doesn't work very well is when it is dark and visibility is poor.
There is also the Edge panel which is a signature of the Galaxy S series of smartphones. I find them pretty useful to swipe out to access commonly used applications, but other users have simply found them to be annoying to accidentally swipe open.
Last but not least, it's cool to note that the Samsung Galaxy S8+'s screen is actually pressure sensitive so tapping it and really pressing it down can give you different effects, for instance tapping the home button and pushing it down allows you to do 2 very separate things.
Camera
The S8+ features a 12MP dual pixel camera which in my opinion is simply remarkable.
Samsung has given us a similar f/1.7 aperture lens, 12MP worth of resolution and phase-detection autofocus. All of this spells a superb shooter that excels in low-light conditions. However, beyond its hardware that seems to appear unchanged, the software behind the photo-processing has changed quite abit to deliver you clearer shots.
Samsung has mentioned that it the Galaxy S8+ actually takes a substantial burst of photos whenever you hammer down on the shutter. Your phone then proceeds to blends the shots in order to build up as much detail as possible so that a clearer picture will be produced.
The dual pixel camera has easily one of the fastest autofocus you can find on the market. In addition to that, the photos shot by the S8+ do indeed offer an excellent amount of detail as well as great dynamic range.
Battery Life
The Galaxy S8+ has a 3,500mAh battery which has been slightly downsized if you compare it to the Note 7, but it is definitely a beast in terms of endurance. It is so power-efficient, the smartphone is more than capable handling a full day's worth of usage and perhaps even more if it's only used moderately.
Conclusion
The Galaxy S8+ is without a doubt a stellar piece of work by Samsung, there is really nothing much to complain about other than its exorbitant price tag, but it is prudent to note that phablets such as the S8+ are an acquired taste, so if you are someone who doesn't really need s huge screen and would prefer an equally powerful device that can be manipulated more easily single-handedly, do consider the Galaxy S8 instead.