The Samsung Galaxy A5 is the latest addition to Samsung's line of mid-tier smartphones and although it isn't a S7-level smartphone, its metallic chassis and glossy glass combination makes it look and feel premium. This waterproof midranger packs decent specifications, but at the price of S$548, it isn't what we would call value-for-money.
Design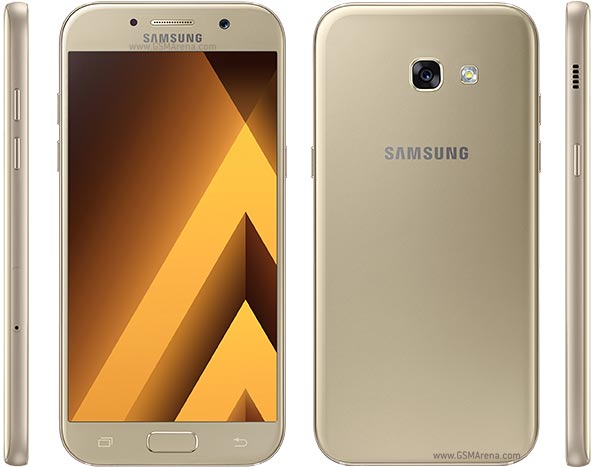 The Galaxy A5 actually looks rather similar to the Galaxy S7, and if you don't scrutinise on the details, you could most certainly try to pass it off as an S7. The aluminium body of the A5 certainly feels solid and sturdy when you grip it.
The 5.2" smartphone has a similar size to other smartphones in the industry and has a thickness of 7.9mm, which is fairly average (the iPhone 7 has a thickness of 7.1mm). It weighs about 157g, which makes it slightly heavier than smartphones in the market with similar screen sizes.
The best part of the A5's design is probably its waterproof feature. It is one of very few smartphones in the mid-range market to actually be IP68 certified, which means you can dunk the phone in a pool and still be good to go.
A USB Type C port is now found on the A5 instead of your regular microUSB port. This should be a good thing because USB Type C ports allow for quicker file transfer and possibly faster charging speeds. However, since not many smartphones use Type C ports yet, you might need to bring along your own wire or adapter if you wish to use someone else's portable charger or wall plug.
The home button as usual, holds the fingerprint sensor, which is very fast and efficient from personal experience too.
Display
The A5 has a standard full-HD display when it comes to resolution, having a 1920 x 1080p resolution, that utilises Super AMOLED technology with a pixel density of 424ppi. The great thing about using a Super AMOLED display is that the smartphone will give you infinite contrast.
Maximum brightness and minimum brightness was also more than satisfactory. It has a maximum brightness of 559 nits, which is slightly less than the 2016's 604 nits, but it still holds up well under Singapore's harsh sunlight. Minimu brightness was at 1.8 nits, which makes night-time WhatsApping easier on your eyes.
Hardware
The A5 is a dual-SIM smartphone, but only if you choose to use a microSD card, it will reduce the smartphone to having only 1 SIM slot left.
The device comes with fairly good connectivity options, with dual-band WiFi technology and even Cat 7 LTE speed for mobile data, if you really need to be downloading things incredibly quickly on the go.
Samsung's A5 is armed with its very own Exynos 7880 chipset, which is an upgrade over the 7870 and its performance coupled with 3GB worth of RAM lets it run rather efficiently with little lags for daily productivity purposes. Testing it with Antutu Benchmark tests gave it a score of 59757, which is the standard for midrange smartphones.
For smartphones at this price, CPU performance is compared below, and as you can see, for the value, Samsung's latest Galaxy entrant is not the most value-for-money when it comes to speed, but it isn't shabby either.
GPU performance was also measured using 3DMark's tests and it gave a result of 808, which indicates that it can handle gaming fairly well, 3D intense games should be able to run, but perhaps with minor lags here and there.
Camera
The Galaxy A5 has both a 16MP camera on the front and the rear. The rear camera handles itself well for a mid-range smartphone. There isn't too much noise and colours appear rather vivid. Its f/1.9 aperture is also wider than most smartphones at this price range, which makes low-light shooting better. Clarity is fairly good considering it has a 16MP resolution as well. However, Samsung has removed the optical image stabiliser on this smartphone, which makes autofocusing much harder, and the fact that the device only uses the older and more traditional contrast detection technology doesn't make things any better.
The selfie shooter has similar specifications in a sense that it has both a 16MP camera and also an aperture of f/1.9mm, but it didn't appear to work as well as the rear shooter. It's most likely due to the absence of autofocus on the front camera, so good shots are only taken at arm's length.
The camera was actually rather intuitive to use, it's selfie timer was really useful and the variety of filters it had was rather great too.
Battery
Battery tests indicate the Samsung's A5 to be a rather enduring smartphone. Running work processes non-stop on the device until it slightly overheated yielded a total of 10h 41min, which is higher than average. That should mean that the battery will be able to tide you through an entire work day and some more. Nevertheless. bringing along a portable battery with your 3,000mAh Galaxy A5 will still be a good choice
Conclusion
The Samsung Galaxy A5 is a decent midranger. It's strongest suit is perhaps its luxurious body that's waterproof, and maybe a good Super AMOLED display. For its price, its speed and performance is alright, but not spectacular and there are better options in the market. Perhaps even the S6 would be a better choice than the A5 if you don't need the waterproof features.