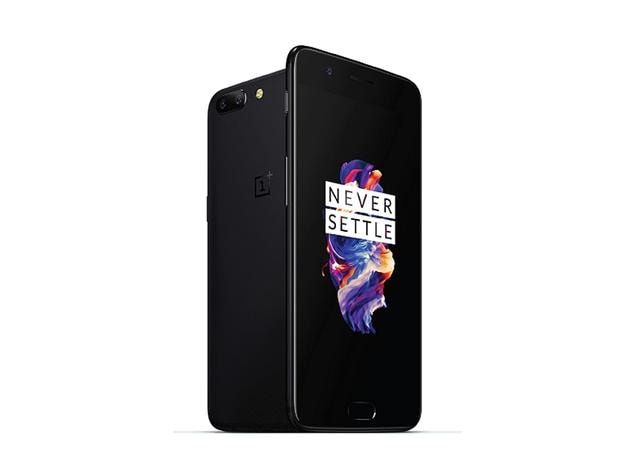 OnePlus has always been known for producing stellar mobile phones at affordable prices. Chinese brands like Xiaomi and Huawei have good reason to be wary of OnePlus' line of amazing midrangers that could very well disguise themselves as flagship smartphones and the OnePlus 5 is no different. Built with a dual-camera setup, a sleek body, and a state-of-the-art chipset, the OnePlus 5 guarantees picture perfect shots and a flagship experience at a more than affordable price of SGD 869.00.
Design
The OnePlus 5 is an elegant yet minimalistically-designed smartphone.
The sleek 154.2 x 74.1 x 7.3 mm smartphone houses a 5.5″ display and comes in at a mere 153g. Under the display, you will find a capacitative fingerprint sensor. It sports a nice aluminium unibody design with protruding dual camera on the rear and a "Do Not Disturb" slider on the left edge just like the older OnePlus phones.
On the base of the smartphone, you will notice a headphone jack, a USB Type C port which supports dash-charging and a USB 3.5mm jack.
Display
The OnePlus 5 holds a full-HD display with a resolution of 1920 x 1080 pixels and an AMOLED powered screen. A full-HD resolution screen is more than enough in my opinion and the clarity is obviously great. The AMOLED display, on the other hand, allows for infinite contrast levels since black pixels are not lit up at all.
Maximum brightness was more than satisfactory under Singapore's bright sun, and minimum brightness was decent, but a little too bright to be used in a completely dark room before bed.
Performance
OnePlus devices have always shone when speed and power is involved. Using the world's fasted chipset, the Snapdragon 835, you get 2 variants on the OnePlus 5, either the 6GB RAM variant or the 8GB RAM variant.
Reviewing the 6GB variant, I honestly felt that the device was great enough for all purposes, and I have yet to encounter a single lag so far. Antutu benchmarks have confirmed that the device is stellar, outperforming flagships such as the Samsung Galaxy S8 and many other top-tier premiums in the market.
Antutu benchmarks gave a score of 178470 higher than the Galaxy S8's 172329.
Gaming performance is pretty good too, the 3DMark tests give a score of 3551, which makes it one of the highest ranking devices in the marketplace as well with its Adreno 540 GPU chipset.
User Experience
As expected, the OnePlus 5 runs the latest Android version available, 7.1.1 Nougat and covers it over the top with an Oxygen OS skin.
One of my favourite Android skins, the OxygenOS resembles the stock Android appearance a lot, but its much better. It's just as simple to use, but it adds in further additional features that makes it a true beast.
Something cool about the OnePlus 5 is definitely the fact it allows for off-screen gestures, whereby, users are able to draw commands on the screen even when it is turned off. An example would be the fact that you can use < or > for previous/next track, or || (two finger swipe) to pause. Letters such as O, P and S can also be used to open specific apps you set it to.
One of the things that separates the Oxygen OS from a Vanilla Android look is Shelf. What you can do here is check the weather, frequently used apps, and frequent contacts. Widgets and header images can be used as well.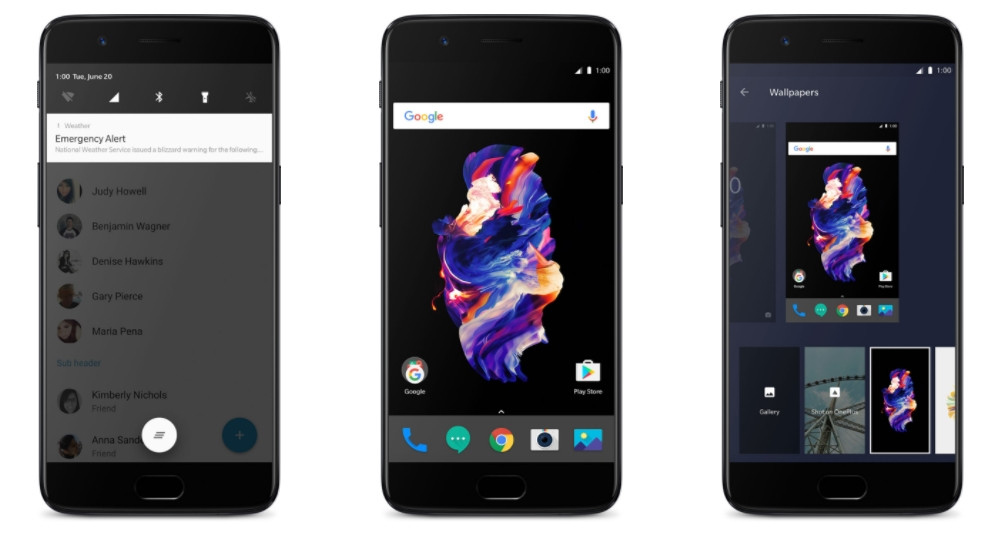 OnePlus has always been great with customizability. It's possible to remap and rearrange controls even the capacitative Menu and App Switcher keys can be reversed, to which you can further assign custom actions when you double-tap and hold these buttons.
Camera
OnePlus 5 improves on the older OnePlus 3 and 3T to deliver you a dual-lens set-up as opposed to a single-lens one. On the rear, you now have a 16MP primary camera with a normal field of view, a 20MP tele shooter which are powered by Sony IMX398 and Sony IMX398 sensors respectively. The normal FOV camera has a 1.12µm pixel size and the tele-photo lens has a pixel size of 1.0µm.
Your primary camera has pretty rich details, constantly putting all 16MP worth of power to use. I hardly noticed much noise, but it is still present at times. Colour reproduction seems good as well, not too saturated and blown out of proportion, but not too washed out either.
Video
The OnePlus 5 allows for video recording in a few options, namely 4K/30fp and 1080p at either 60fps and 30fps. Video quality is incredibly smooth thanks to the electronic image stabilization, which works with the 1080p/30fps, but not in 4K.
Battery
The new OnePlus 5 houses a 3,300mAh battery which is above average and it doesn't disappoint for an incredibly light phone such as itself.
With moderate usage, the OnePlus 5 lasts a full work day from 8am to about 7pm when regular texting and occasionally surfing the web, which gives it a lifespan of 11 hours, nothing to complain about but definitely do bring a portable charger if you intend to be out at dawn and back at dusk.
Conclusion
In general, the OnePlus 5 is a great buy, its price hits the bottom end of premium flagships and the top end for midrangers, but it definitely offers specifications that even the best smartphones in the industry have difficulty matching. If you love sleek smartphones that give you nearly unrivalled power and speed as well as a great shooter, definitely do consider the OnePlus 5 as your next smartphone.
The OnePlus 5 can be purchased at Lazada with a 12+6 months official warranty