A new racing simulator is designed to look just like the real thing. With authentic tires and a Formula One body, this simulator will set you back $120,000
If you've ever wanted to be a real Formula One racer, you can now buy the next best thing for racing in the comfort of your living room. A simulator, which is developed by FMCG International, is designed to look like a real F1 car. The body has the generic shape of a Formula One racer, and comes in silver, red or black. FMCG has even seen it fit to put real tires and brakes on it. This is a little odd of course, seeing as the simulator can't actually move; but at the very least it adds some authenticity to it.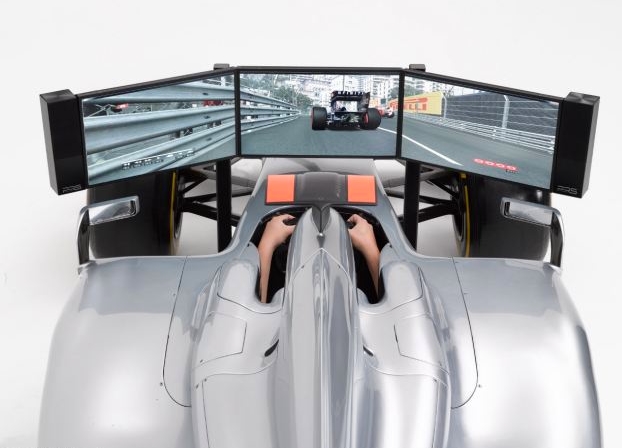 vroom vroom!
In front of the driver's seat is three 23" screens, and you'll be surrounded by a 5.1 surround system. These will both be hooked up to a high end PC hidden in the body. What is perhaps a little odd, is that despite the effort to maintain authenticity, the simulator doesn't contain any form of hydraulics to simulate g-forces or road texture; a feature which is becoming more and more common with high end simulators.
The simulator is only available via Costco UK, and you have to order it over the phone (understandably so); they don't stock them on the shelves. If you decide to buy one, an FMCG representative will help you set it up and teach you on the ins and outs of using it. Still, you may think twice once you reach the price tag. The simulator will set you back $120,000, which is enough to let you buy an actual race car. To put thing in perspective, you'll be able to go home with a 2013 model Nissan GT-R Black Edition for that price and still have ten grand left over. Personally, I'd rather have the car.
Update (just in case you would rather have the simulator):
Specifications via Costco UK
Brand: FMCG International
Model Number: N/A
Floor plan: Composite, finished with carbon fibre detail
Main tub: Woven composite
Side pods: Composite, finished with carbon fibre detail inside
Rear deck (engine cover): Composite, finished, includes integral aero components
Nose cone: Composite with detailed fixings to main tub and pillars to front
Main plan and front wing: Composite, finished with carbon fibre details
Head rest: Composite – removable to allow easy access for when in use as simulator
Engine / gear box frame: Spacer frame manufactured from box section – fully seam welded and coated black
Rear deformable structure: Composite, finished in carbon fibre. Rain light detail above
Rear wing end plates: Composite with aero detail to outside face
Rear wing main plane: Composite, finished in carbon fibre on leading edge
Uprights: Machined from high grade alloy
Brake callipers: AP Racing or Brembo
Wheel nuts: Machined from high grade metal, anodised in Red and Black to identify side of car
Brake disks: Carbon, with disc bell from machined from high grade metal
Upper wishbones: Carbon Fibre detail where visible
Lower wishbones: Carbon Fibre detail where visible
Push rods: Carbon Fibre detail where visible
Gear box: Machined from single block of alloy, with alloy drive shafts
Wheel rims: Magnesium alloy, sprayed in contrasting colour
Tyres: Pirelli F1™ travel / show tyres
T camera: Composite carbon fibre finished in black / carbon with orange race decals
Brake ducts: Composite with carbon detail secured to uprights
Exhausts: Protruding from rear body work, polished finish
Steering: Custom made, high use force feedback unit with industrial rollers and motors
Steering wheel: Quick release steering wheel that is designed to visually match an F1™ type steering wheel.
Pedals: High end solution, with electronically adjustable (suitable for varying height users)
Painting: All body work is prepared for final painting, primed, undercoated and finished in a high gloss top coat. Final colour to be finished in Silver, Red or Black. Please specify this at time of ordering
Screen: 3 x 23 inch wide TFT Screens (8ms) with super slim bezels, mounted on an adjustable frame
Speakers: 5.1 digital speaker system, screen towers house main front speakers, with remaining speakers located inside the car. Sub-woofer is positioned at driver's back for added effect
Computer: Custom super high end digital PC with Intel Core i7 processor, Intel SSD hard drive for ultimate read / write speeds, triple head graphics card with display port, 16GB RAM, 1200w PSU, Windows 7 – 64 bit professional, wireless keyboard with integral mouse