For all the UK's wonderful gamers, you no longer need to feel left out from E3; The Loading Bar has got you covered for EToo.
While most American journalists and game developers will be living it up in sunny California next week during E3, the usually dreary UK may not be so lucky to experience the unique gaming delights of the three day event. However, this hasn't kept them down with the announcement of the "alternative E3 gaming event", EToo. Their expo is to take place in London with over thirty game developers hosting their titles over the three day event for UK's journalists and gaming folk to playtest, write about and enjoy.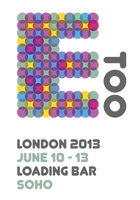 The event is being organized by people like Loading Bar's Jimmy Dance, who will be hosting the event and  Keith Stuart, a games journalist for  The Guardian. Stuart said of EToo's origins as better than just "sulking on Twitter about not being able to go to E3." Out of the thirty developers, most will be from the United Kingdom including some incredible indie developers such as "New Star Games"  who will be showing off an unseen new build of New Star Soccer, "Hello Games", creators of the popular series, Joe Danger and "Mediatonic", who are currently working on Foul Play. Capcom, who will be showing off the new HD remastered Duck Tales and Naughty Dog who will be demoing The Last of Us before their release.
Other indie stand-outs include Big Robot, who are currently making Sir You Are Being Hunted, with Rock Paper Shotgun's Jim Rissingol and Tiniest Shark, who are developing the chaotic space-sim, Redshirt. While most of the game developers will be indie, Sony have put up their hand to be the headline sponsor for the event, along with the likes of Android console developer, PlayJam. Stuart is incredibly excited for the event and notes that Game dev, George Backer helped with the foundation of the event who said "we should do our own event,"  and while it "probably should have ended there…somehow it didn't. "
EToo will run concurrentlywith E3 2013, taking place from June 10th to June 13th. You can register for the event and purchase tickets through EventBrite. Daylight tickets are  free, but After Dark tickets will cost you six pounds. Almost all tickets are still available, except for Tuesday Daylight tickets, which are currently sold out.
via Polygon