Most fitness trackers are glorified pedometers, but the Zoom HRV, seeks to break out of that sorry trend. This amphibious tracker is built specifically for the intense sportsman who ventures both land and sea. With continuous heart-rate tracking, even when you are asleep, the Zoom HRV seeks to be the next Fitbit-killer.
Design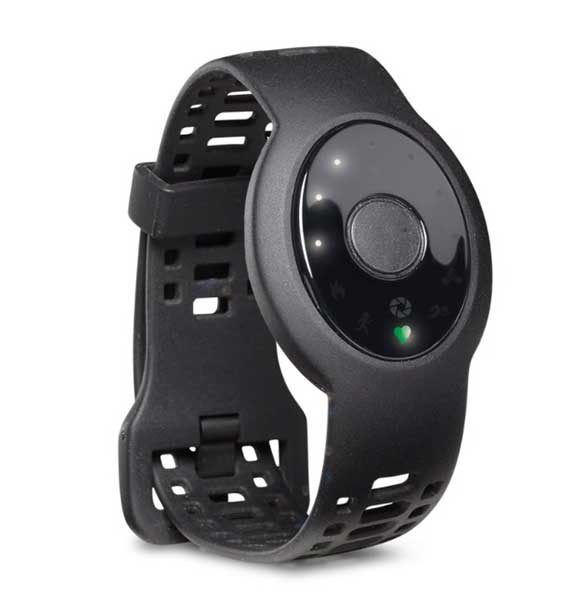 The Zoom HRV sports a flexible rubber band that holds a disc-like tracker inside it. The tracker itself is removable and it holds a singular rubber button for syncing and to activate workout modes.
There is no LED screen on the tracker, but there are light indicators that gauge your progress such as steps taken as a fraction out of your goal. So if you want to see the exact number of steps taken, your heart-rate numbers and what not, you might have to use your smartphone app.
The Zoom HRV is waterproof since it's an amphibious device.
The removable strap is surprisingly comfortable and something interesting about the Zoom HRV is that it can be used on your wrist, forearm and even head (I'm not sure how this works).
Functions
Without a doubt, the Zoom HRV's greatest asset is its continuous heart-rate monitoring capabilities. It works day and night, tracking your heart rate as you sleep too. This. alongside the movement tracking on the Zoom HRV helps you track the quality of your sleep.
Since we're on the topic of sleep-tracking, I found that the tracker tracks the duration of sleep rather accurately, but it doesn't track the sleep quality that well. I'm a light sleeper, but I highly doubt that I woke up 43 times in a single night as shown below.
However, when it came to tracking workouts, the heart-rate monitor was incredibly useful. As you can see, it tracked my heart-rate during my run/walk(because I am too weak to sustain a 25-minute run) rather well, even calculating the time period when I was in my fat-burning zone.
During the workout, it also actually nudges you to tell you if you are exiting your target training zone, which is incredibly useful for serious athlete.
The ability to track your heart-rate when you swim is also pretty insane.
Of course it has your usual staples like step-tracking, calculating calories burnt and distance travelled but I don't think it's worth mentioning much since they are found everywhere. Step-tracking was fairly accurate though, hand-flailing and random movements didn't count as steps on the device, although its algorithm does tend to undercount since you have to take quite a few steps before it begins to confirm that you are indeed walking.
Battery Life
You are required to charge the device using a charging stand which you place the tracker on, so you can't just plug an USB cable into it. This is fine by all measures, but if you lose the charging stand then, you are pretty much screwed.
It has about a 5-day battery life, which is standard, if not a little higher than the current industry average of about 3-4 days.
App and Connectivity
The connection is triggered by triple-pressing the Zoom HRV and then the device pairs automatically. It works smoothly, but you have to wait for the syncing process to work, which can actually take quite a long time to be honest.
The app is quite well-designed as well. Everything is laid out nicely as you can see. Within each segment is also a graph for you to track all your progress, daily, monthly or more.
The only beef with the Zoom HRV is that they give you a VScore which is supposed to measure stress levels and determine whether you're ready to train again, but it doesn't really tell you how to intepret the VScore, which is quite troubling.
Verdict
The only thing I had hoped for the Zoom HRV to have is actually a screen. For its price at S$209, it's a great buy. For a serious athlete or a couch potato, this well-designed tracker is so feature-packed it makes most of its famous rivals look bad.
---
About the Author
A Dentist-To-Be Dabbling in Tech Journalism:
Zayne is a writer who reports for VR-Zone, Stuff Singapore and The New Paper on all things tech-related. Follow this geek on Twitter, Facebook or Instagram!