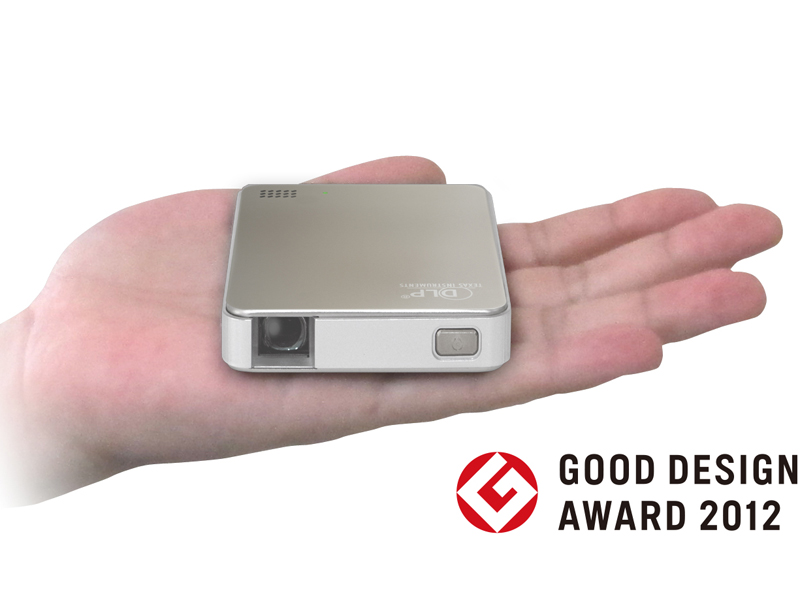 Ever wish you had a projector that fit in the palm of your hand? Well electronics maker Geanee will be granting that wish just in time for Christmas on December 1st with their handheld DLP projector, the MPJ-50.
For the low, low, price of 19,800 Yen (244USD), this nifty little box, which won the 2012 "Good Design Award" for its sleek compact exterior, could be yours. But is it worth it?
Well let's take a closer look at it's features. It really is handheld at 60x77x11.1mm in size, and it has a weight of merely 65g, so if you slid it in your pocket you wouldn't even notice it was there. It supports AV input, and with an exclusive cable it can be connected to an iPhone* or iPod/iPad to output video or images in resolutions ranging from 640×480 to a maximum of 1080p. That's full HD video projection. From an iPhone. Amazing!
*Unfortunately it still doesn't work with the iPhone 5
The projector itself has an RGB LED light source, with a maximum brightness of 50 lumens, and a contrast of 800:1. It also features TI's Brilliant Color technology. The projection distance ranges from approx 0.3~3m, and it is capable of projecting an image sized 30" from 1m distance. It even carries an internal monaural speaker with output of 0.5W.
Now, with all that said and done, projectors are usually pretty power hungry, so the battery power of this device will probably determine its life on the market. The battery in question is lithium ion (800mAh), and lasts for up to 90 minutes in save mode, or up to 50 minutes in normal mode projection. This should last just enough for your on-the-spot PowerPoint presentations, at least! It takes 2 hours to charge the battery fully.
The projector also comes with bonus items of a tripod and Micro USB cable. All in all not a bad little package, for people who like to give impromptu presentations on the go.