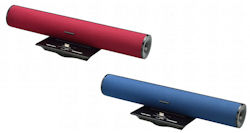 Need powerful speakers but live in a small space? Hitachi has a solution for compact home dwellers. These newest speakers from Hitachi Maxell incorporate Magic Speaker and Dynamic BassReflex Horns in order to get a rich three dimensional sound while measuring only 81mm tall. No price has been announced for them but they are expected to cost around 10,000 Yen ($121).
The speakers come in both a wireless Bluetooth connected model (MXSP-BT1300), and one which connects via the same 22 pin USB 2.0-compatible WM-port as a Walkman. Alternatively, they can both be connected with a 3.5mm jack. The output of the new Maxells measures 4.2W x 2, and they come with an 80Hz ~ 20kHz frequency response. They are light but not tiny; weighing in at 900 grams, measuring 113cm in length, and come with a remote control.
Maxell is really hoping to attract customers to the unique design, which will make them fit nicely and elegantly in your home. The company's description of Magic Speaker includes a surround sound-like effect, where it should feel like you have additional speakers to the left and the right of the MXSP. Thus, giving you a more three dimensional listening experience.
The Bass Reflex, the bouncing of sound off the back of the speaker housing in order to increase the efficiency of the system, will supposedly boost bass without the need to make the unit larger.
It will definitely come down to personal taste on whether or not these tube-shaped speakers are right for you but they are a nice addition to the market's current offerings.