According to recent reports from China Telecom, CoolPad's latest flagship 4.7-inch Android smartphone, the HD 9960, will go on sale later this month. The biggest surprise, however, is that the phone will come with a Nvidia penta-core chip inside.
In true Chinese fashion, the HD 9960 is the result of two years of research by a team of 800 engineers. It represents a significant achievement through the partnership between CoolPad and China Telecom. In China, sales of the phone will be subsidized by the state owned China Telecom. A lot of buyers may need help affording it, too, as its price of 4980 Yuan, or almost $800, places it firmly at the expensive end of the price spectrum for new smartphones.
The HD 9960's 4.7 inch 1280×720 screen and 13MP camera are impressive, but it's the processor that could really change everything. The Nvidia mobile CPU inside the new phone employs a technique called Variable Symmetric Multiprocessing (vSMP) to balance workloads and save power. Additionally, the CPU governor analyzes system workloads and switches between the low power process 500MHz processor and the four high performance 1.5GHz processors. The 'throttling' effect can be accomplished in just 2 milliseconds. Nvidia claims this processor uses two to three times less power than standard competing chips.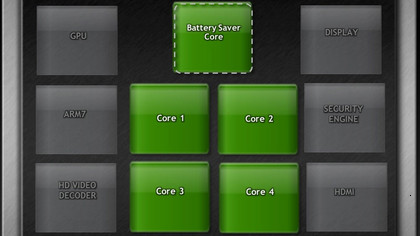 The HD 9960 is part of a major investment in handset technology on the part of China Telecom, and an ambitious attempt by Chinese IT companies generally to compete with their counterparts around the world. China Telecom has outlined a strategy it calls the "New Three" which consists of providing technology, a platform, and content for mobile phones. CoolPAD is reported to have invested 200 million Yuan ($32 million) in research. Investment in new devices is also reportedly up 20% over 2011. I wouldn't expect the appearance of new technology from Chinese manufacturers to slow down any time soon.