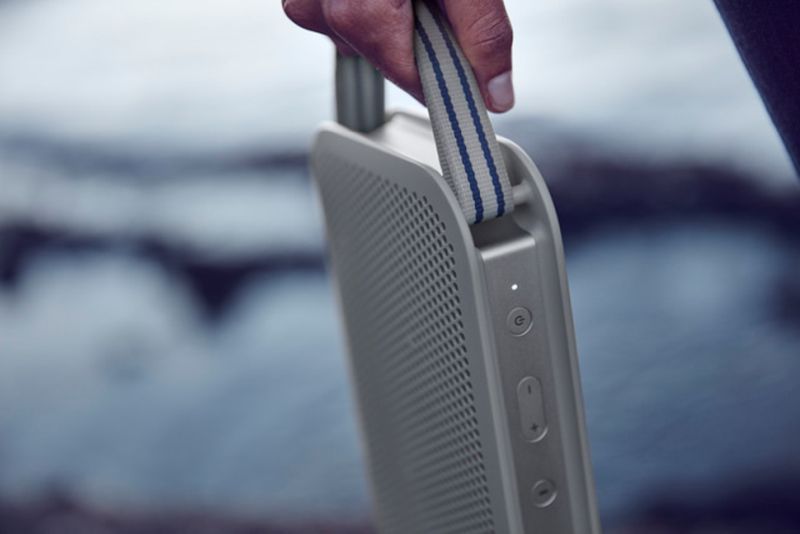 Bang & Olufsen is renowned across the globe for its high-quality speakers. The B&O name is pretty much synonymous with "a great audio experience". B&O PLAY has recently launched the BEOPLAY A2 ACTIVE speaker, to its robust line of Bluetooth speakers. This dust and splash-proof speaker is great on both the eyes and the ears. Excelling across all audio frequencies, the BEOPLAY A2 ACTIVE is a true audio masterpiece, however, it comes at a high price point of S$549.
Design
The A2 ACTIVE looks incredibly gorgeous. It reminds me somewhat of a clutch bag, a very high-tech clutch bag. It has a strap for you to grip and carry it around easily. This helps it in terms of portability since the speaker is slightly heavier at 1.1kg.
The flat build of the A2 ACTIVE allows it to be propped up on its spine, or laid flat down on its body. The flat surfaces have a grille design that hold the speakers and along the rim, you get the control buttons.
Despite being a slightly larger and heavier speaker, moving the A2 ACTIVE around is simple and effortless.
Audio Quality
The A2 ACTIVE  is a powerful speaker that does well in almost every department.
It's bass is heavy and resonating, making it not only great for EDM music, but your pop rock tracks as well. This might be due to its well-balanced mids too. So it doesn't really matter whether you want to rock out to Hardwell, or Simple Plan, because the A2 ACTIVE's got your back.
Distortion on electric guitars when you played punk rock tracks also came off sounding pretty good, so if you like tracks that AC/DC or Bon Jovi produce, then you won't be disappointed.
Even acoustic music came off very crisp. At louder volumes, there was minimal distortion. Trying to play Lost Boy by Ruth B on the A2 ACTIVE was truly a hair-raising experience.
Connectivity
The A2 ACTIVE is capable of connecting to 8 devices, which allows more than 1 person to control the device.
It also has an app, which can change the equalizer to set the mood for your music, whether its an upbeat excited one or a chill and relaxed one, the app allows for an impressive array of customised music.
Battery Life
With up to 24 hours of music playback, the B&O A2 ACTIVE outperforms most portable speakers in terms of battery life. However, at its weight and price, it's only to be expected. Nevertheless, what this means is that your A2 ACTIVE can definitely last you around 2-3 days , more than enough for your next stay-cay for sure.
Conclusion
The A2 ACTIVE is a powerful portable speaker, that looks and sounds luxurious. Its classy design is truly worth its S$549 price tag and the audio quality on the device is superb. This B&O masterpiece comes highly recommended, but only if you are a true audiophile, because the hefty price point of the A2 ACTIVE, is still going to be a significant deterrent to the general public.
---
About the Author
A Dentist-To-Be Dabbling in Tech Journalism:
Zayne is a writer who reports for VR-Zone, Stuff Singapore and The New Paper on all things tech-related. Follow this geek on Twitter, Facebook or Instagram!