AfterShokz Trekz Titanium earphones are nothing short of innovative. These open ear earphones are the ultimate earphones any cyclist should consider. It's innovative and sporty design however, is limited by the subpar audio quality. However at $199, they are a tad pricey.
Design
The AfterShokz Trekz Titanium is made out of a flexible but yet somewhat unbreakable titanium-like material to allow it to sit on your head nicely.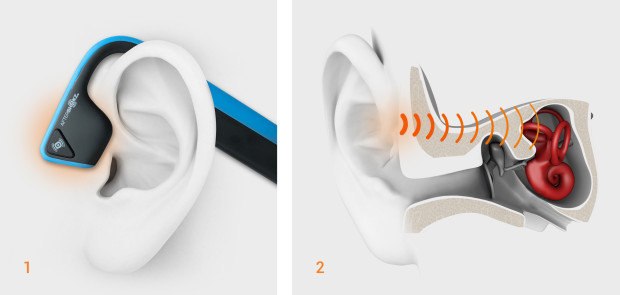 These so-called bone-conducting earphones vibrate the soft bones near your ear to allow you to hear sounds that vibrate to your ear canal. What this does is basically allow you to be able to listen to music, but yet let you be able to hear your surroundings at the same time. This is quintessential for a road biker.
The Trekz Titanium looks superb to be honest, its extremely futuristic in its design, as if right out of a sci-fi movie. Even the concept itself, seems so unreal, yet it works.
It alsi has handy and practically placed buttons, two on the right side whic is the volume up/down and power button, as well as a multi-purpose button that is located on the outside of the left speaker.
Comfort
The AfterShokz Trekz Titanium is very comfortable. That's pretty much it. It sits nicely, not too tightly around the head near the soft bones and doesn't really interfere with your sporting activities. Even for sporty geeks like me that have trouble with wireless earphones had zero problems with the Trekz.
Isolation
The Titanium Trekz doesn't fare very well in the isolation department because it's not built to be noise-isolating at all. The whole concept of the Trekz is for you to be able to listen to surrounding sounds, so if you can't do that then there's no purpose for these earphones.
Audio Quality
Now, the AfterShokz Trekz is a pretty sporty earphone, but it isn't truly made for audiophiles.
The bass and mids are fairly average on the device, nothing spectacular to be honest. For this price, the audio quality can be said to be rather underwhelming to be a little harsh. The music produced isn't very impactful and it doesn't quite have a studio feel to it.
The vocals on the other hand are actually quite decent, vocal clarity was good enough for me even whilst on the go.
To be honest, the reason why the Trekz Titanium may not fare very well in the audio department because it's really not in-ear. It's a compromise they have to make. The lack of isolation causes some white noise to enter the ear which can severely reduce the impact of the bass and mids, hence the lack of "umph" is understandable. Whether you can accept that compromise is pretty much your call.
One other thing to note is that when you turn the volume up high, you literally feel the vibrations on your soft bone. It's fine to me, but some of my colleagues have felt that it was a little on the annoying side.
Battery Life
It was good, really. Most bluetooth earphones fail here, but the AfterShokz Trekz Titanium reigned superior in this department.
The average bluetooth earphones last you about 4 hours on average, but my experience with the Trekz gave me over 5 hours and even up to 6 whilst blasting non-stop. Recharging could be done very fast as well, slightly over an hour.
Verdict
If you are an avid cyclist or road runner, the Trekz Titanium is a good option for you to consider. These innovative and futuristic earphones are really a niche to be honestly. If you need to hear your surroundings constantly, look nowhere else. However, if you are in the market for a sports bluetooth eaprhones for indoor use, at this price range, there might be better options. Also, if you are a true audiophile that loves to chill in your air-con room, you actually don't even need a bluetooth set of earphones. Something like the AF56 would do you good.
Design

Comfort

Isolation

Bass (Audio)

Mids (Audio)

Highs (Audio)

Vocals (Audio)

Battery

Price