Samsung Electronics' in-house supply lines are stretched thin as the company attempts to overtake Apple Inc, as the world's leading smartphone maker.
The smartphone market is worth approximately $253 billion, and ruling it is big business. After courtroom battles over patents, the two tech giants Apple and Samsung are now going head to head over who has the best supply of parts. The ongoing battle led the two companies to split 100% of the industry's profit in the January-March quarter, according to Canaccord Genuity data.
If Samsung gains the upper hand on supplies, it'll cause trouble for the US firm as it prepares for its next product line, which includes a cheaper iPhone for emerging markets. The trouble would most likely come in the form of higher costs and component bottlenecks, which could delay releases. For Samsung, supply is the company's strength. With a chain of parts which includes processors, displays, memory chips, batteries and more, Samsung has the upper hand on Apple. However, in order to expand its supply to include both high and low end components, those chains are still being stretched thin.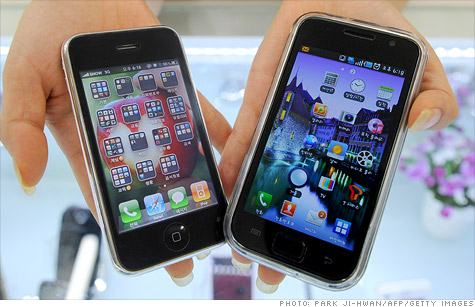 "Who wins access to the best performing components in class in large quantity — that's the key — and it explains why Samsung is shopping for components more than ever." says Lee Sun-tae, an analyst at NH Investment & Securities.
One tactic for winning has seen Samsung widen its supply chain to include companies which usually manufacture parts for Apple. Samsung is using an increasing number of chips by Qualcomm, a major Apple supplier, and after buying a 3 percent stake in display maker Sharp, that company has announced it wishes to boost Samsung's sales, potentially causing more trouble for Apple. Apart from these two companies, Samsung and Apple both get parts from Toshiba, Sony and Corning Inc. Bosch and STMicroelectronics stand out as companies potentially in a reverse position; currently serving Samsung, but perhaps adding Apple to their client lists in the future.
Admittedly, Samsung produces most of its components in-house. An estimated 80% of Samsung's profits are funneled right back into parts manufacturing. However, even a small overlap in supply chains can have a negative impact for Apple. "Any disruption in even small parts that you wouldn't think are really core, say headphones, can affect product launches," said Lee. As an example, HTC reported record low profits last quarter, due to product delays following camera shortages.