Planetary Resources, a small startup hoping to mine near earth asteroids, has recently announced that they're looking for interns for next year to help develop new technologies for space exploration and mineral extraction.
Earlier this year, a small startup named Planetary Resources, which is backed by both James Cameron and Google's co-founders, garnered much attention in the media; the company is hoping to reducing the costs of space exploration and also to mine near-.earth asteroids for resources. Now, they've opened an internship project which will allow student to participate in the company's endeavors.
Planetary Resources co-founders, Eric Anderson (left) and Peter H Diamandis, M.D.
In an email sent to the company's supporters and subscribers, Planetary Resources says it is looking for college students to help develop the "next generation of space exploration technologies" during the coming year. The paid internship will run between January and August of 2013, in Bellevue, WA. In addition, the company has also signed a deal with commercial space flight company Virgin Galactic to help them start carrying asteroid observing space telescopes into orbit as early as 2014.
The benefits of mining asteroids are many. Virtually all the rare metals on the earth's crust originally arrived there via asteroid impacts; they are very rich in minable resources, such as iron, gold and platinum, and exist in abundance. As an example, southern African platinum mines often extract around 5-10 grams of platinum per metric ton, whereas many meteorites have been measured containing as much as 100 grams per ton; between 10 and 20 times the density of earth samples. In fact, a single asteroid of 1 km size or larger (of which there are about a million of in the solar system) would contain as much as USD 150 billion worth of platinum.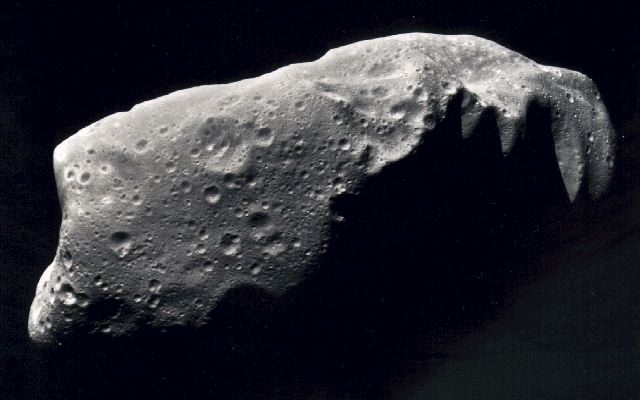 The Asteroid "Ida"
Further more, up to 10% of near earth asteroids would require less fuel resources to reach than the moon, making such a mining venture both within the technological and economic scope of mankind. A small number of asteroids would require as little as 1 to 2 km/s velocity change from Low Earth Orbit in order to reach them, which is less than a third of the moon's required 6 km/s change.
All this sounds very science-fiction, but clearly, it is not as unfeasible as the word "asteroid mining" might at first make you think. And with big names and lots of money backing Planetary Resources, it might be a very good idea to apply for that internship.