Huawei's first quad-core HiSilicon chip in the Ascend D1 Quadcore XL brought users many surprises, and the HiSilicon K3V2 which powers the XL has become an emblem for the rising level of smartphone technology in China. Not one to keep fans waiting, Huawei is back with a bang with its Honor quad-core model, which carries the same quad-core processor and a modest price tag of under 2000 Yuan (around $320 USD).
With the exception of the upgraded processor, this phone does not differ greatly from Huawei's Ascend D1 model. Do you want an ultra-slim phone or a beefier high powered model? Well, let's first compare the two phones in detail:
| | | |
| --- | --- | --- |
| | Huawei Rongyao | Huawei Ascend D1 |
| Screen Size | 4.5in | 4.5in |
| Screen Material | IPS | IPS |
| Screen Resolution | 1280×720 | 1280×720 |
| Network | GSM/WCDMA | GSM/WCDMA |
| OS | Android 4.0 | Android 4.0 |
| Cores | Quad-Core | Dual-Core |
| CPU Model | HiSilicon K3V2 | Texas Instr. OMAP4460 |
| CPU Frequency | 1.4GHz | 1.5GHz |
| RAM | 2GB | 1GB |
| ROM | 8GB | 8GB |
| Battery | 2230mAh | 1800mAh |
| Phone Size | 134×67.5×10.5mm | 129.9×64.9×8.9mm |
| Phone Weight | 145g | 132g |
| Camera Pixels | 1.3MP+8MP | 1.3MP+8MP |
Although they may look different, on the inside the two models are quite similar. While it would seem that the Honor's 2GB of RAM would take a clear victory, the slimmer body of the Ascend has its fair share of loyal followers. So then, the processor difference is key in determining the victor here.
If you're slim, do you win?
Let's take a closer look at the exterior of the two phones. The Ascend D1's narrower body doesn't really affect the grippability of the phone during use, and the rounded edges of both models give them a similar look overall.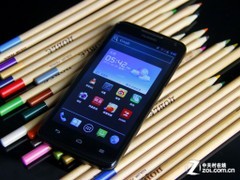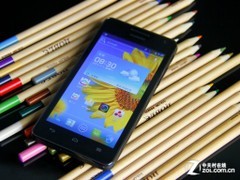 Huawei Ascend D1 compared to Huawei Honor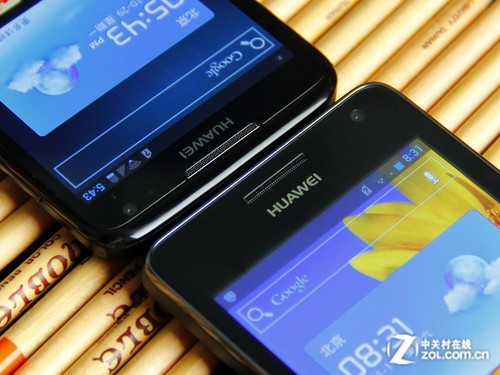 Huawei Ascend D1 (Left) and Honor (Right)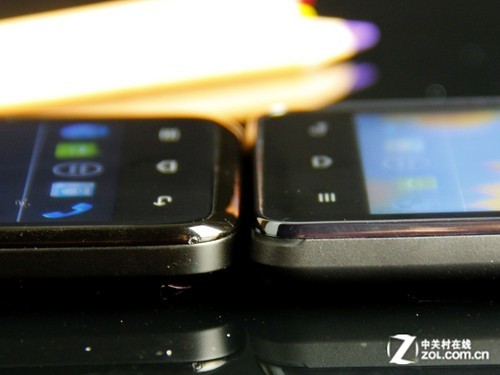 Huawei Ascend D1 (Left) Thin Body Design
Both models have a similar head, with built in speaker and camera, and also a similar virtual key layout. However, from the pictures we can see that the Ascend D1 is just a little thinner than the Honor. In theory 1.6mm isn't that great a difference, but when holding the phone you can really feel the difference in thickness.
The Honor's buttons have an advantage over the Ascend D1, and this can be attributed to Huawei's improvements in the humanized design of their products. For example, the power button is placed on the head of the Ascend D1, but on the Honor it is placed on the right side of the phone, making it easy to push regardless of the screen size.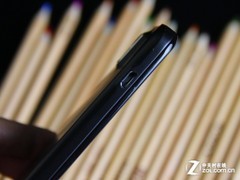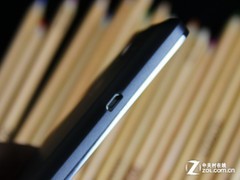 Huawei Ascend D1 (Left) vs. Huawei Honor (Right) Data Port

Huawei Ascend D1 (Left) vs. Huawei Honor (Right) Power Button & Port on Head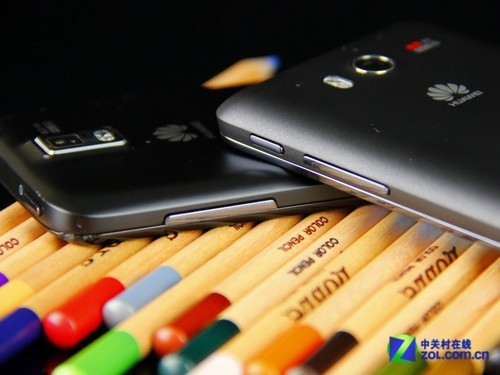 Huawei Ascend D1 (Left) vs. Huawei Honor (Right) Buttons on Right Side
The camera on both phones has a similar 8MP lens with dual flash bulbs. However, do they both take pictures with the same quality? Keep reading for the answer!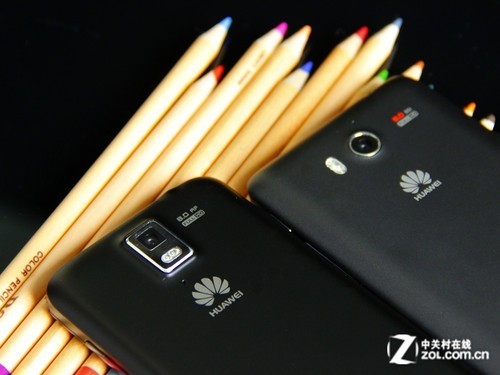 8MP Lens & Dual Flash Bulbs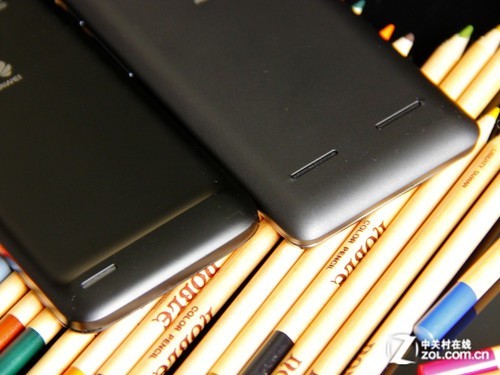 Huawei Ascend D1 (Left) Rounded Bottom Design
The Honor adopts a dual left-right mesh speaker, and both phones possess noise cancelling dual microphones.